U.S. Navy leads training to fight pirates
Daily News Article — Posted on April 3, 2019
The Obangame Express training exercise, in its ninth year, this year included 2,500 personnel, 95 ships and 12 aircraft, with the participation of countries in West Africa, Europe and North America.
"In West Africa, the Gulf of Guinea is crucial to economic development because economic prosperity is tied to the maritime domain," said Adm. James G. Foggo III, commander, U.S. Naval Forces Europe-Africa and commander, Allied Joint Force Command Naples.
"This requires that the maritime countries of this region have strong, professional military and law enforcement institutions that can provide the setting for maritime trade to flourish. When maritime trade freely sails across the seas, economic development and the opportunity for prosperity are possible."
Currently the Gulf of Guinea "is vulnerable to illegal activities within territorial waters, all of which degrades the ability for regional and global trade to occur freely and benefit the region," said Foggo.
Not all countries have large ships, he said, so vessels are shared in the Gulf of Guinea.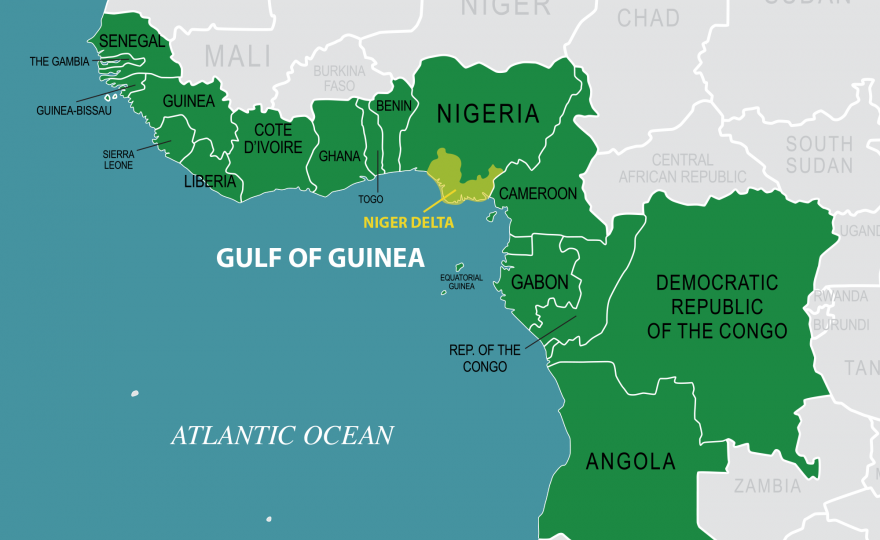 Adm. Ibok-Ete Ekwe Ibas, Nigeria's Chief of Naval Staff, said that countries in the region are challenged to be aware of what needs to be done to protect their coastlines and sea areas.
There are "issues of the various navies not having adequate platform and not having adequate infrastructure to support even the operational fleet in terms of capacity to even deploy … We also have problems with language," he said, noting that English, French, Portuguese and Spanish are all used in the region.
In the last six years, Nigeria has been able to buy more ships to improve its abilities at sea, he said, adding that more than 75 percent of attempted "mischief" at sea has been foiled in recent times, referring to piracy and the hijacking of vessels.
Training, logisitics and government support will remain crucial, he said, in maintaining the security of the gulf.
[Adm. Foggo also noted the following firsts:
"Cote D'Ivorian naval forces incorporated drug-detecting dogs for the first time in the exercise. The canine team worked to search a simulated narcotics smuggling vessel and ultimately find contraband that was hidden there. Another first was members of the Nigerian Navy's special boat services fast-roped from a Nigerian helicopter onto the deck of a Nigerian warship. This was the first vertical visit, board, search and seizure of a non-compliant vessel.
"Finally, and I think most impressive, is that Nigeria opened its Maritime Domain Awareness Training Center. The center will serve as a training hub for West African countries, and will contribute to improving communications between partner nations. This center will increase the frequency at which training can occur, and will cut down on costs for African maritime nations, who will no longer need to send their personnel to Europe or North America for training.]
From an Associated Press report at navytimes .com. Reprinted here for educational purposes only. May not be reproduced on other websites without permission from Navy Times.
Questions
1. The first paragraph of a news article should answer the questions who, what, where and when. List the who, what, where and when of this news item. (NOTE: The remainder of a news article provides details on the why and/or how.)
2. What is the purpose for the Obangame Express training?
3. Why is the Gulf of Guinea crucial to economic development in West Africa?
4. What are two of the main challenges faced by the African countries in coordinating maritime exercises?
5. Read the "Background" and watch the videos under "Resources" below. The U.S. is assisting/training African countries to help themselves. Why do you think this is important?
Background
Obangame Express, conducted by U.S. Naval Forces Africa (NAVAF), is an at-sea maritime exercise designed to improve cooperation among participating nations in order to increase maritime safety and security in the Gulf of Guinea. It focuses on maritime interdiction operations, as well as visit, board, search, and seizure techniques.
OE19 seeks to assess and improve Gulf of Guinea law enforcement capacity, promote national and regional security, inform African Maritime Law Enforcement Partnership (AMLEP) planning and operations, and shape security force assistance efforts.
OE takes place in the Gulf of Guinea with signatory nations of the Youande Code of Conduct and includes 20 African partners, Angola, Benin, Cameroon, Cote d'Ivoire, Democratic Republic of Congo, Congo, Cabo Verde, Gabon, Ghana, Guinea, Guinea-Bassau, Equatorial Guinea, Liberia, Morrocco, Nigeria, Senegal, Sierra Leone, Sao Tome and Principe, and Togo. (from US Africa Command)
---
In his remarks at the conclusion of the 2019 Obangame Express training exercise, Admiral Foggo noted:
We have had major successes since 2010 when this exercise began. Comparing the exercise from 2010 to now, is night and day. When we began the exercise in 2010, many African countries lacked the facilities, capacity, ships, or maritime operation centers to monitor what was occurring within their coastal domains—they were suffering from what we call "sea blindness." Today, the West African nations have a series of facilities and radars that enable them to coordinate and collaborate across the maritime domain.

We have the Yaoundé Code of Conduct, which means that when a vessel gets underway to challenge nefarious activity in the maritime domain it is about to share information with other countries that have contiguous borders like Nigeria, Togo, Benin, and Ghana. They can all compare notes by utilizing their maritime operation centers to help each other combat illicit activity in their exclusive economic zones and territorial waters. There is still a little bit of fog, which we call, "sea fog." So we have some work to do. But as these regional maritime countries get more opportunities working together, the better they collaborate, and less severe the fog becomes. We will continue to practice this again next year. (from Africa's DefenseWeb)