Trump agrees to meet with Kim Jong Un
Daily News Article — Posted on March 12, 2018
(by Danielle Haynes, UPI) — President Trump agreed to meet North Korean leader Kim Jong Un for denuclearization talks by May, a South Korean envoy who facilitated communication between the two said Thursday.
Chung Eui-yong, South Korean President Moon Jae-in's national security chief, said Kim offered to halt nuclear and missile testing and production in order to facilitate the proposed meeting.
Kim "expressed his eagerness to meet President Trump as soon as possible," Chung told reporters outside the White House. "Trump said he would meet Kim by May to achieve permanent denuclearization" of North Korea.
[On Tuesday, South Korea had announced the North had stated there was "no reason" to hold on to its nuclear weapons "if military threats towards the North are cleared and the security of its regime is guaranteed."  In the past North Korea has indicated that security guarantees mean the departure of US forces from the Korean peninsula and the end of a mutual defense treaty with the South.].
However, on Thursday when making the announcement, Chung said Kim is "committed to denuclearization" and that he understands routine joint military exercises between South Korea and the United States must continue.
"We are optimistic about continuing a diplomatic process," Chung said. "The Republic of Korea, the United States and our partners stand together in insisting we do not repeat the mistakes of the past and that the pressure will continue until North Korea matches its words with concrete actions."
White House press secretary Sarah Sanders said Trump "greatly appreciates the nice words" of the South Korean delegation and, "He will accept the invitation to meet with Kim Jong Un at a place and time to be determined. We look forward to the denuclearization of North Korea. In the meantime, all sanctions and maximum pressure must remain," she added. [In August, the Trump administration convinced the United Nations Security Council to vote 15-0 in favor of sanctions on N. Korea].
[Vice President Mike Pence also said the US position towards North Korea would not change "until we see credible, verifiable, and concrete steps toward denuclearization."].
On Tuesday, President Trump had tweeted:
"Possible progress being made in talks with North Korea. For the first time in many years, a serious effort is being made by all parties concerned. The World is watching and waiting! May be false hope, but the U.S. is ready to go hard in either direction!"
He followed up on Thursday after Chung's announcement by tweeting:
"Kim Jong Un talked about denuclearization with the South Korean Representatives, not just a freeze. Also, no missile testing by North Korea during this period of time. Great progress being made but sanctions will remain until an agreement is reached. Meeting being planned!"
[The major development follows diplomatic moves by the North to thaw its acrimonious relations with both the South and the US. The rival Koreas had already agreed to hold a leadership summit in late April.].
A senior Trump administration official told reporters after the announcement that continued sanctions pressure is what differentiated Trump's denuclearization efforts from those of previous administrations.
President Trump "is not prepared to reward North Korea in exchange for talks," the official said, "and really he expects North Korea to start putting action to these words that were conveyed via the South Koreans."
… The announcement comes after a South Korean presidential delegation that met with Kim in Pyongyang traveled to Washington, D.C., to deliver a top-secret communication from Kim to Trump.
Before the Washington meeting, Chung said the main aim of the delegation's U.S. visit was to build trust with the United States regarding potential dialogue.
The alarming level of missile development and claims North Korean rockets could hit parts of the continental United States has drawn strong responses from the Trump administration.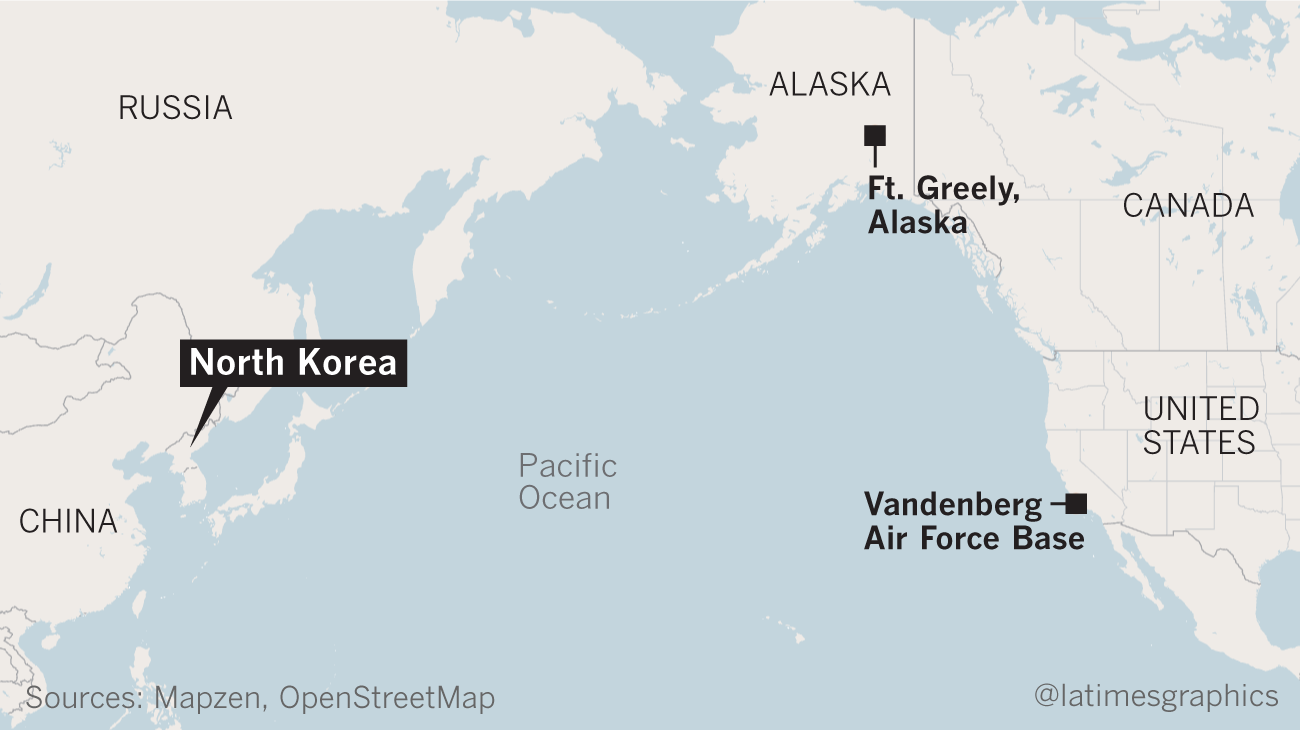 Questioned about the risk of fruitless high-level talks, a senior administration official said Trump was elected into office because of promises to do things differently than previous administrations.
"When President Trump came into office … he determined on Day 1 that the urgent matter of denuclearizing North Korea was something that would require a new approach," the official said, adding that the president wanted to avoid "mistakes that have been made over the past 27 years of dialogue and failed approaches.

"President Trump made his reputation on making deals," the official said.
While low-level U.S. officials have been in touch with their counterparts in North Korea over multiple previous administrations, no sitting U.S. president has ever met with a North Korean leader. Former President Jimmy Carter met with Kim's grandfather, Kim Il Sung, in 1994 and former President Bill Clinton met with Kim's father, Kim Jong Il, in 2009.
Any face-to-face meeting between Trump and Kim would make good on a campaign promise by the U.S. president to persuade Pyongyang to abandon its nuclear weapons program.
It's a departure from the [policies of the Clinton, Bush and Obama administrations], which focused on [at different times, appeasement, talks and/or sanctions. The Obama administration described their strategy as that of "strategic patience."].
Reacting to the announcement, President Moon said, "I think President Trump deserves big credit for bringing about the inter-Korean talks. It could be a resulting work of the U.S.-led sanctions and pressure."
Elizabeth Shim contributed to this report.