Pfizer vaccine 90% effective; stock market jumps 1,600 points
Daily News Article — Posted on November 11, 2020
NOTE: On May 15, 2020, the Trump administration announced Operation Warp Speed to accelerate development, production, and distribution of Covid-19 vaccines, therapeutics, and diagnostics to produce and deliver 300 million doses of safe and effective vaccines with the goal of making initial doses available by January 2021.
---
(by Sam Meredith, CNBC) – Pfizer and BioNTech announced Monday their coronavirus vaccine was more than 90% effective in preventing Covid-19 among those without evidence of prior infection, hailing the development as "a great day for science and humanity."
"I think we can see light at the end of the tunnel," Pfizer Chairman and CEO Dr. Albert Bourla told CNBC… "I believe this is likely the most significant medical advance in the last 100 years, if you count the impact this will have in public health, global economy."
…Scientists [have been] hoping for a coronavirus vaccine that is at least 75% effective, while White House coronavirus advisor Dr. Anthony Fauci has said one that is 50% or 60% effective would be acceptable.
[Reuters reported: "The prospect of a vaccine electrified world markets with the S&P 500 and Dow hitting record highs].  U.S. stock futures skyrocketed as investors cheered the news. Futures on the Dow Jones Industrial Average surged 1,646 points, implying an opening gain of more than 1,630 points. By late morning, the Dow was up more than 1,000 points, a rise of 3.7%.
Airline and cruise company stocks jumped in premarket trading — with some stocks rising by 20% and 30%. Both industries have been significantly affected by the global health crisis as travel restrictions and a resurgence in outbreaks continue to hurt demand.
Pfizer's results were based on the first interim efficacy analysis conducted by an external and independent Data Monitoring Committee from the Phase 3 clinical study. The independent group of experts oversees U.S. clinical trials to ensure the safety of participants.
The analysis evaluated 94 confirmed Covid-19 infections among the trial's 43,538 participants. Pfizer and the U.S. pharmaceutical giant's German biotech partner (BioNTech) said the case split between vaccinated individuals and those who received a placebo indicated a vaccine efficacy rate of above 90% at seven days after the second dose.
It means that protection from Covid-19 is achieved 28 days after the initial vaccination, which consists of a two-dose schedule. The final vaccine efficacy percentage may vary, however, as safety and additional data continue to be collected. …..
"With today's news, we are a significant step closer to providing people around the world with a much-needed breakthrough to help bring an end to this global health crisis. We look forward to sharing additional efficacy and safety data generated from thousands of participants in the coming weeks," Pfizer CEO Bourla said.

"I'm near ecstatic," Bill Gruber, one of Pfizer's top vaccine scientists, said in an interview. "This is a great day for public health and for the potential to get us all out of the circumstances we're now in."
…The companies said they planned to submit for Emergency Use Authorization to the U.S. Food and Drug Administration (FDA) soon after they have two months of data, which is currently on track for the third week of November.
Based on current projections, Pfizer and BioNTech expect to produce up to 50 million vaccine doses in 2020, and up to 1.3 billion doses in 2021. The vaccine requires two doses per person.
Though the companies didn't take any money from the federal government for research and development for the drug, they reached a nearly $2 billion agreement in July to supply 100 million doses to the U.S. government as part of the Trump administration's Operation Warp Speed. That money is helping with manufacturing and distribution. …
The companies said they plan to submit data from the full Phase 3 trial, which began on July 27, for scientific peer-review publication. …
["This news made me smile from ear to ear. It is a relief to see such positive results on this vaccine and bodes well for COVID-19 vaccines in general," said Peter Horby, professor of emerging infectious diseases at the University of Oxford].
U.S. officials and scientists are hopeful a vaccine to prevent Covid-19 will be ready in the first half of 2021 — 12 to 18 months since Chinese scientists first identified the coronavirus coming out of Wuhan, China and mapped its genetic sequence.
It's a record-breaking time frame for a process that normally takes about a decade for an effective and safe vaccine. The fastest-ever vaccine development, mumps, took more than four years and was licensed in 1967.
A more than 90% effective coronavirus vaccine would be roughly on par with one dose of a measles vaccination, which is about 93% effective, according to the Centers for Disease Control and Prevention.
Comparatively, the CDC says a vaccine for influenza reduces the risk of flu illness by between 40% and 60% among the overall population.
[The Pfizer and BioNTech vaccine uses messenger RNA (mRNA) technology, which relies on synthetic genes that can be generated and manufactured in weeks, and produced at scale more rapidly than conventional vaccines. The technology is designed to trigger an immune response without using pathogens, such as actual virus particles.
The Trump administration has said it will have enough vaccine doses for all of the 330 million U.S. residents who want it by the middle of 2021.
President Trump welcomed the test results, and the market boost, tweeting: "STOCK MARKET UP BIG, VACCINE COMING SOON. REPORT 90% EFFECTIVE. SUCH GREAT NEWS!"
Published at CNBC .com. CNBC's Berkeley Lovelace Jr. contributed to this report. Reprinted here for educational purposes only. May not be reproduced on other websites without permission from CNBC.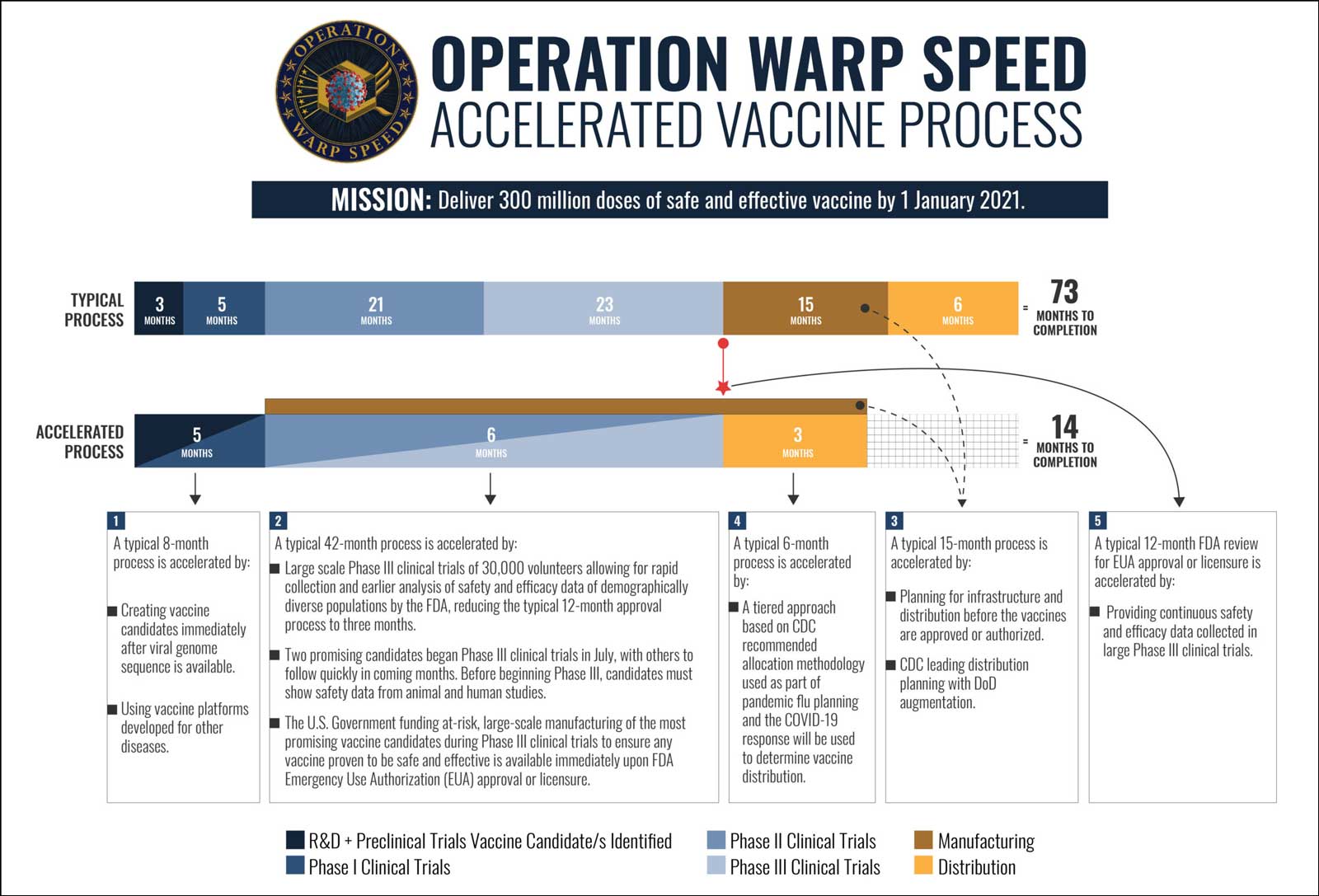 Background
In addition to the good news from Pfizer, Reuters reports: "Moderna is expected to report results from its large-scale trial later this month. 'It's likely that we're going to have more than one vaccine that's effective,' Fauci said.
William Schaffner, infectious diseases expert at Vanderbilt University School of Medicine in Nashville, Tennessee, called the Pfizer results better than most anticipated. "The study isn't completed yet, but nonetheless the data look very solid."