Palestinian President Meets Hamas to Talk Unity
Daily News Article — Posted on March 31, 2011
NOTE: The Palestinian Authority is currently ruled by two parties, Fatah and Hamas. Hamas holds the majority of seats in the Palestinian Parliament and the office of Prime Minister. Fatah holds a minority of seats in the Parliament, and the office of President. Hamas controls the Gaza Strip; Fatah controls the West Bank.

(by Mohammed Daraghmeh, SignOnSanDiego.com) RAMALLAH, West Bank (AP) – The Palestinian president met Saturday with his rivals in the Hamas militant* group in an attempt to end nearly four years of infighting that has complicated the quest for a Palestinian state. [*NOTE: Militants have been closely associated with extremism and sometimes even terrorism historically, due to the fact that they are closely linked with violent activities. (per wisegeek)]
With the collapse of peace talks with Israel, Palestinian President Mahmoud Abbas and his Western-backed government [Fatah] have turned their attention to reconciling with the Iranian-backed Hamas movement that ousted his forces from the Gaza Strip in 2007 and left him governing only in the West Bank. Palestinians seek both territories for their nation.
Hamas and other Gaza militants oppose peace with Israel and have over the past week rained rockets and mortar fire down on Israeli communities across the border. No one has been killed [thus far], but Israel for the first time deployed parts of an anti-rocket shield under development called the "Iron Dome." Two more rockets were fired Saturday, spraying an Israeli home with shrapnel (see photo below).
Years of on-and-off talks between Hamas and Abbas' Fatah movement have produced many false starts. Even mediation by Egypt, before the uprising that ousted President Hosni Mubarak, failed to bring about a breakthrough.
Saturday's meeting in the West Bank – the first to involve Abbas in a year – [was an attempt] to arrange a trip by Abbas to Hamas-ruled Gaza for more talks. He has not set foot in the territory since the Hamas takeover.
Senior Fatah official Azzam al-Ahmed said the meeting was a positive discussion but no headway was made in setting Abbas' Gaza visit.
"We hope that all the obstacles will be removed. The most important thing is to get to a practical result, which won't happen before the president's arrival to Gaza," he said.
Ayman Hussein of the Hamas delegation told The Associated Press that Abbas said he wants one government to rule both the West Bank and Gaza [as it did until Hamas violently ousted Fatah from Gaza] and that a date needs to be set for Palestinian elections, which have had to be delayed because of the division.
Abbas has previously said elections would be held in September but only if a deal is reached to allow the participation of Gaza. Hamas has said it would boycott the election.
Hamas lawmaker Aziz Duwaik said many issues were discussed and "practical steps will follow very soon," without elaborating.
Palestinians in both the West Bank and Gaza took to the streets earlier this month calling on their governments to reconcile.
Without unity, Palestinian statehood and a peace agreement with Israel will be even harder to achieve. Talks between Israel and Abbas' Palestinian Authority collapsed last year because of disputes over Israeli construction in the West Bank.
If a unity deal is reached [between Hamas and Fatah], independent [managers] approved by both sides would be appointed to temporarily govern the West Bank and Gaza until national elections. The winner would lead a united Palestinian Authority.
However, Abbas has not revealed what his plan for a unified Palestinian Authority would look like in practical terms, and the level of [bitter hostility] between the sides significantly dims prospects for a deal.
An outright Hamas election victory that shuts out Fatah would also further stall peace efforts with Israel.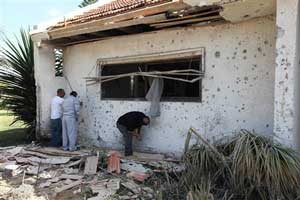 Hamas and Israel have largely stuck to a truce [except when Hamas is launching rockets into civilian areas of Israel], since a punishing Israeli offensive in the Gaza in early 2009 [aimed at forcing Hamas to stop launching rockets into Israel].
Smaller militant groups in Gaza, however, have continued to lob rockets over the border, drawing Israeli airstrikes and shelling. And violence escalated last Saturday, when Gaza militants fired more than 50 mortar shells into southern Israel. Hamas took responsibility for some of the shelling.
Photo on right: An Israeli man inspects a damaged house hit by a rocket fired by Palestinian militants from the Gaza Strip, Saturday, March 26, 2011.
Hamas spokesman Ismail Radwan said Saturday that his group would end rocket attacks if Israel stops its strikes. The Israeli military would not comment.
Daniel Estrin contributed to this report from Jerusalem.
** NOTE: Brackets [] are used in this article to add corrections and/or explanations that were not in the original text but have been added by the editors.

Associated Press. Reprinted here for educational purposes only. May not be reproduced on other websites without permission from The San Diego Union-Tribune. Visit the website at signonsandiego.com.
Background
THE PALESTINIAN AUTHORITY'S RULING POLITICAL PARTIES:
The Palestinian Authority is currently ruled by two parties, Fatah and Hamas. Hamas holds the majority of seats in the Palestinian Parliament and the office of Prime Minister. Fatah holds a minority of seats in the Parliament, and the office of President.
Fatah ruled the Palestinian Authority from its establishment in 1994 until 2006. [Yasser Arafat was the head of Fatah until his death in 2004.] Fatah is a major secular Palestinian political party.... In Palestinian politics it is on the center-left of the spectrum. ..... [Since its loss in 2006 as the ruling party] it has ... been described oftentimes in the media as the more "moderate" party, although many dispute this due to its past actions and current policies. (from Wikipedia.org)
Hamas is a Palestinian Sunni Islamist terrorist organization that currently (since January 2006) forms the majority party of the Palestinian Authority.... Hamas is known outside the Palestinian territories for its suicide bombings and other attacks directed against Israeli civilians, as well as military and security forces targets. Hamas' charter...calls for the destruction of the State of Israel and its replacement with a Palestinian Islamic state in the area that is now Israel, the West Bank, and the Gaza Strip......In January 2006, Hamas won a surprise victory in the Palestinian parliamentary elections.... Many [Palestinians] perceived the preceding Fatah government as corrupt and ineffective... Since Hamas has taken control, the Palestinian territories have experienced a period of sharp internal conflicts, known as Fauda (anarchy), in which many Palestinians have been killed in...fighting [between Hamas supporters and Fatah supporters]. (from Wikipedia.org)
ON THE ISRAELI-HAMAS CONFLICT: (most of this information is from wikipedia.org posted 1/2009)
In 2005 Israel withdrew all troops and settlers from the Gaza Strip in an effort to establish peace with Palestinians. In 2007 Hamas took control of Gaza after defeating Fatah in armed conflict. Hamas' objective is to destroy the state of Israel.
Following the Hamas takeover of the Gaza Strip, Israel sealed its border crossing with Gaza, on the grounds that Fatah was no longer providing security, and imposed a blockade on the territory, except for humanitarian aid. (Egypt also closed its border with the Gaza Strip when fighting between Fatah and Hamas started on June 7, 2007.)
On December 19, 2008 when a six-month cease-fire between the Hamas-led de facto government of Gaza and Israel ended, Hamas refused to extend the cease-fire on the grounds that Israel was continuing a blockade on Gaza.
Israel started the operation against Hamas following a major increase in Hamas rocket attacks into Israel, culminating with 80 rockets fired into Israel on Christmas Eve. These Hamas rockets were and continue to be aimed at Israeli civilians.
Israel is targeting Hamas military targets. The government says that the attacks are being undertaken in order to destroy Hamas' capability and motivation to launch future similar attacks on Israel.
THE SIZE OF ISRAEL:
263 miles long - North to South
Width: between 9 and 71 miles wide (East to West)
Comparison: Israel Area - slightly smaller than New Jersey
Population: 7.5 million
THE SIZE OF THE GAZA STRIP:
25 miles long and 6.2 miles wide
Comparison: slightly more than twice the size of Washington, DC
Population: 1.5 million