MLB yanks All-Star Game from Atlanta over Georgia's new voting law
Daily News Article — Posted on April 5, 2021
MLB Commissioner Rob Manfred said that the decision to yank the July mid-season classic from Atlanta was made because "MLB fundamentally supports voting rights for all Americans and opposes restrictions at the ballot box."
President Biden told ESPN last week he would "strongly support" pulling the widely watched game out of Atlanta and claimed the new state law heralded the return of racist Jim Crow policies, which [The Washington Post, refuted in a fact-check, gave Biden "4 Pinocchios" for promoting the lie that the new law reduced voting hours, among other false claims] . …
Republicans … pointed out that Biden has been awarded "Four Pinocchios" by the Washington Post, which endorsed his candidacy, for spreading misinformation about the new state election integrity law.  …..
The Georgia election reforms passed by the Republican-held state legislature [which makes it easier to vote and harder to cheat] and signed last week by Gov. Kemp impose new rules on absentee voting — including requiring a photo ID and shortening the absentee voting window — in addition to other changes that conservatives say will improve election integrity. …
Democrats allege that the bill will constrict voting, particularly among poorer and African-American voters, who helped Biden carry the state in November by fewer than 12,000 votes. Democrats also narrowly won a pair of Senate runoff races in January.
But Biden has run afoul of fact-checkers for repeatedly misdescribing details of the law, including recently saying "it's sick" that the law will "end voting at 5 o'clock when working people are just getting off work," [which is a false claim].
In fact, the bill does not shorten voting hours, but allows counties to expand them later than 5 p.m. It also adds a mandatory new early-voting day — a second Saturday before an election — and allows counties the option of opening for voting on the two Sundays preceding an election.  …..
MLB did not announce a new location for the All Star Game, which is scheduled for July 13.
---
From WSB-TV 2 Atlanta:  The MLB pulled its 2021 All-Star Game from the Atlanta Brave's stadium, and the 2021 MLB draft, in the wake of the state's new election integrity law enacted last month.
The league has characterized the law as a "voter suppression" law. Still, according to an analysis by Heritage Action, the left has publicized falsehoods about the law, noting specifically that the law "actually preserves or expands ballot access in several important ways." 
[The Heritage analysis also explains: "The law requires a driver's license or free state ID number, which 97% of registered voters already have. Anyone without a valid ID can easily obtain one for free. The voter ID requirement replaces the state's controversial signature match program that led to the disqualification of thousands of votes in 2020.  The law's voter ID requirement for absentee ballots is overwhelmingly popular in Georgia across the board. According to an AJC poll in January, 74% of Georgia voters support it, including 63% of black voters, and 89% of those making under $25K/year."].
But the league's decision to take the game away from Atlanta is costing the city of Atlanta the tens of millions in revenue it would have made if the game was held in the Braves stadium.
The Cobb County Travel and Tourism Bureau estimates that losses from Major League Baseball's decision to move the All-Star Game out of Atlanta total more than $100 million.
"This event would have directly impacted our county and the state, as visitors spend their dollars on local accommodations, transportation, entertainment and recreation, food and retail throughout the county," Cobb County Travel and Tourism said. "This would have been a big boost to Cobb businesses and help with recovery after the COVID-19 pandemic."
The bureau said the 8,000-plus hotel rooms contracted for the game that will now not be needed will have a negative impact on the county's hospitality industry, further delaying recovery from the pandemic.
---
No word on why others were not boycotted by the MLB:
The Dispatch associate editor Declan Garvey noted on Twitter:  "The last MLB All Star Game was held in Cleveland in 2019. Ohio requires voters applying for an absentee ballot to provide the same thing Georgia does. Ohio offers 22 days of early voting, Georgia offers at least 17, up to 19."
Sen. Tom Cotton (R-Ark.) pointed out that MLB has a recruitment deal with communist Cuba, asking the league, "how many dropboxes does Cuba use for early voting?"
Conservative commentator Guy Benson tweeted:  "In 2016, FL election featured mandatory voter ID & fewer days of early voting than GA allows now.   MLB hosted the All Star Game in Miami the [following] year. A decade ago, the All Star Game was in NY (home to MLB HQ & Hall of Fame) where to this day, early & absentee voting are more restricted than in GA."
Benson also wrote in a commentary: "New York's elections administration is an absolute disaster. Their voting laws are more restrictive in multiple important ways than Georgia's – and therefore, we're told, racist and suppressive by definition. How can Major League Baseball continue to countenance this appalling betrayal of its supposed "values" by maintaining its headquarters and Hall of Fame in such a backward and bigoted state? And if MLB Commissioner Manfred and company choose to look the other way and remain in New York, what does that say about their commitment to ostensible "values"? It says the same thing as this does:

Background
WSB-TV 2 Atlanta notes: President Biden encouraged a boycott against an American state (Georgia) – but not of the 2022 Olympic Games to be held in Communist China, where ethnic cleansing and genocide are being carried out by the Chinese Communist regime.
---
South Carolina Republican Rep. Nancy Mace called out the MLB for moving the 2021 All-Star game out of Georgia over its new voter-ID law - because the league still requires fans to show photo identification cards to pick up tickets.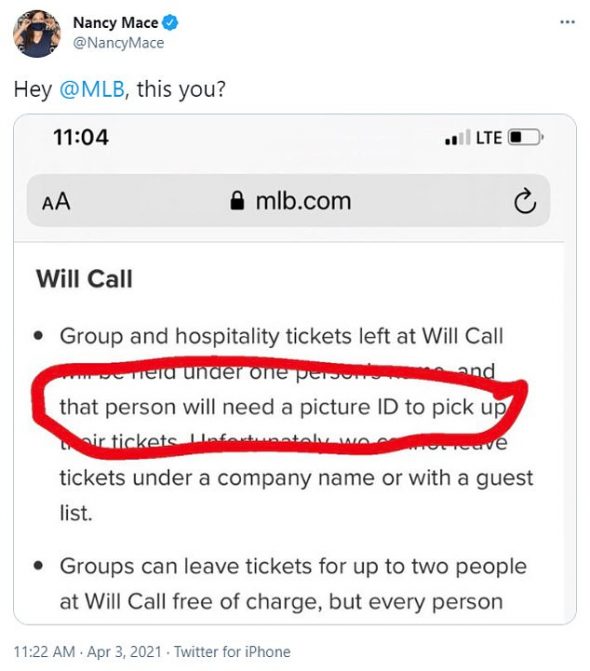 ---
In other news:  MLB signs new deal with Chinese firm that dropped NBA over exec's support for Hong Kong democracy advocates
The MLB signed a deal with Tencent Wednesday, one of China's largest tech companies [a company backed by the Communist Party of China].
It's one of the Chinese firms that briefly dropped NBA games in 2019 after former Houston Rockets general manager Daryl Morey publicly voiced support for pro-democracy protesters facing a Beijing-backed crackdown in Hong Kong.
The new deal grants Tencent rights to stream MLB games in a number of Asian countries until 2023. Back in 2018, the MLB and Tencent reached another deal that granted the company streaming rights for 125 games within China.
Florida Republican Sen. Marco Rubio slammed the move.
"@MLB caves to pressure & moves draft & #AllStarGame out of Georgia on the same week they announce a deal with a company backed by the genocidal Communist Party of #China," he tweeted. "Why are we still listening to these woke corporate hypocrites on taxes, regulations & anti-trust?"
Critics have accused the league of caving to corporate sponsors and owners. And although the league said it asked for players' feedback in its announcement Friday, it's unclear that officials had warned ballplayers of a final decision before announcing it.
The conflicting deals raise questions about whether the league is making an effort to take a moral stand or to achieve maximum profits.
Atlanta's home team, the Braves, said in a statement that it is "deeply disappointed" by the choice.
"Unfortunately, businesses, employees and fans in Georgia are the victims of this decision," the team said. (by Michael Ruiz, April 4, FoxNews)