Final Results: Pop Star Declared Haitian President
Daily News Article — Posted on April 22, 2011
(by Trenton Daniel of Associated Press at YahooNews.com) PORT-AU-PRINCE, Haiti – Michel Martelly, a popular singer known by the stage name "Sweet Micky," was officially declared the next president of this earthquake-devastated country, election officials said.
Martelly won the presidency with 67.6 percent of the vote, defeating rival candidate and former first lady Mirlande Manigat, Haitian electoral commission spokesman Pierre Thibault said Wednesday.
The announcement ends a long, drawn-out election that began Nov. 28 and was marred by fraud and other irregularities, several days of rioting and numerous delays.
After election officials released preliminary results on April 6 showing that Martelly, 50, defeated his opponent with nearly 68 percent of the vote, Manigat said she wouldn't contest the results.
Since then, Martelly has spoken about the need for reconciliation in this bitterly divided nation as he's sought to put together a transition team. On the campaign trail, he called for free education for all children, a renovation of the agricultural sector, and the restoration of the disbanded army.
Martelly, a master of Haiti's compas music before he became a presidential candidate, is to be inaugurated on May 14. As Haiti's newly elected president, he faces enormous challenges.
The new leader will be tasked with leading a multibillion-dollar reconstruction effort following last year's magnitude-7 earthquake, which claimed 300,000 lives and displaced hundreds of thousands of Haitians. He also has to find a way to stem a deadly cholera epidemic.
In addition to the presidency, election officials also released final results for legislative elections, giving the political party of outgoing President Rene Preval a majority in the Senate. This could prove to be another hurdle for Martelly: Parliament must approve his pick for prime minister.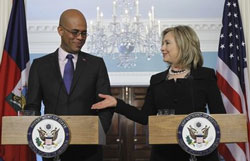 On the same day that Haitian officials announced the final results, Martelly met with U.S. Secretary of State Hillary Clinton (see photo) as part of a three-day visit to Washington. He said he spoke with Clinton about his three priorities: education, finding homes for people living in tents, and restarting Haiti's agricultural sector.
In a news conference, Martelly admitted he had huge challenges ahead of him. He called reconstruction efforts "despairingly slow." He also stressed the need to tackle the cholera epidemic that has claimed more than 4,700 lives since October. He warned that the coming hurricane season could spread the disease countrywide.
Clinton said she welcomed Martelly as president.
"Now he has a chance to lead, and we are behind him," said Clinton, Martelly at her side. "He is committed to results. He wants to deliver for the Haitian people. And we are committed to helping him do so."
Haiti's difficult recovery from the earthquake and years of instability and poverty was underscored Wednesday when 53 [Democratic] members of the U.S. Congress wrote to Clinton urging her to work with the Haitian government to provide rapid support for the displaced people lacking adequate shelter, water, sanitation and security.
Thirty-eight percent of resettlement camps still lack regular water supplies, the [Democrats'] letter said, adding that the percentage had improved little since August. Nearly a third of camps don't have toilets. Where toilets are provided, each one is shared by an average of nearly 300 people.
"The shelter installations in which displaced Haitians live are progressively deteriorating," the members of Congress wrote. The lawmakers urged Clinton "to work with Haitian authorities and our international partners to ensure a speedy, short-term response."
Associated Press writer Bradley Klapper in Washington contributed to this report.
Copyright ©2011 Associated Press. All rights reserved. Reprinted here for educational purposes only. The information contained in this AP news report may not be published, broadcast, rewritten, or redistributed without the prior written authority of the Associated Press. Visit news.yahoo.com/s/ap/20110421/ap_on_bi_ge/cb_haiti_elections. for the original post.
Background
MICHEL MARTELLY:
Michel Martelly has been heralded as a pioneer of a unique brand of kompas music, a style of Haitian dance music sung in Haitian Creole language.
Martelly, a keyboardist and the self-proclaimed President of Compas, popularized a nouvelle génération, or "new generation" style, of smaller bands with few members that relied predominantly on synthesizers and electronic instruments to reproduce a fuller sound.
Martelly's and Sweet Micky's live performances and recordings are sometimes laced with "burlesque" and humorous sociopolitical commentaries and satires.
Outlandish and outspoken, the Sweet Micky Caricature has been known to drink publicly while performing in wigs, costumes, and Scottish kilts, and occasionally remove his own attire while performing.
While arguably the most recognized and applauded musician and public personality in Haiti, Martelly's performance style has sometimes ignited controversy throughout Haitian communities.
After completing his high school at the Saint-Louis de Gonzague, he tried a career in engineering, however, his musical talent and his entertainer's skills took over his professional life so he became a popular recording artist and entertainer. (from wikipedia)
HAITI: (from a 2010 wikipedia entry)
On January 12, 2010, a 7.0 magnitude earthquake struck Haiti and devastated the capital city, Port-au-Prince. It was the country's most severe earthquake in over 200 years.
Widespread damage resulted from the quake. The capital city was devastated. The Presidential palace, Parliament and many other important structures were destroyed, along with countless homes and businesses, leaving many homeless.
On February 10th, the Haitian government gave a confirmed death toll of 230,000.
International aid flowed in but was hampered by damaged infrastructure: the main port was damaged beyond immediate use, the one local airport was of limited capacity and border crossings with the Dominican Republic were distant and crowded.
As many as one million Haitians were left homeless.
Haiti will need to be completely rebuilt from the ground up, according to a journalist, as "[e]ven in good times, Haiti is an economic wreck, balancing precariously on the razor's edge of calamity."