Elite U.S. Forces Kill Top Al Qaeda Fighter
Daily News Article — Posted on September 15, 2009
(from WSJ.com) — Airborne U.S. Special Operations forces attacked a car in southern Somalia on Monday and killed one of east Africa's most wanted al Qaeda militants, a U.S. official said.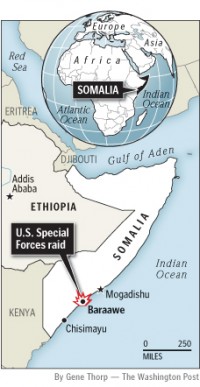 The commandos, among the most elite and secretive of all U.S. military forces, had spent days tracking Kenyan-born Saleh Ali Saleh Nabhan, who is suspected of building the truck bomb that killed 15 people at a Kenyan hotel in 2002, as well as involvement in a simultaneous, botched missile launch at an Israeli airliner, the official said.
The strike represented an unusually high-profile assault by the covert American forces, whose activities are highly classified and whose operations — whether successes or failures — rarely take place in public view.
"It was a careful, methodical operation," the official said.
Pentagon spokesman Geoff Morrell declined to comment on the operation. The Pentagon, as a matter of policy, almost never comments on strikes by Special Operations forces such as the Navy Seals or the Army's Delta Force.
A Somali government official said Mr. Nabhan was in a car with other insurgents from the al Shabab rebel group when they were hit in Barawe District, some 150 miles south of the capital, Mogadishu. The troops took the body, along with two other men wounded in the attack, into custody. A U.S. official said they were confident the body was that of Mr. Nabhan.
A witness, Dahir Ahmed, said the helicopters took off from a warship flying a French flag, but that account couldn't be confirmed. French military spokesman Christophe Prazuck denied the attack was a French operation. "They are not French helicopters," he said.
Somalia's United Nations-backed government, with support from African Union peacekeepers, holds only a few blocks of Mogadishu, and its military doesn't have helicopters or other modern equipment.
The U.S. strongly backs Somalia's beleaguered regime, led by President Sheikh Sharif Sheikh Ahmed, who has positioned himself as a moderate capable of uniting the country's factions. Since coming to power in January, the regime has been besieged by the al Shabab militia, a loose coalition of Islamist militants and other extremists seeking to topple the government and impose a strict form of Islam in Somalia. The U.S. has designated al Shabab a terrorist organization.
The conflict in Somalia is characterized by shifting alliances. The president, Mr. Ahmed, was once a member of a radical Islamist government that held power briefly in 2006; al Shabab was that government's armed wing.
Mogadishu sees near-daily battles between government and insurgent forces. Tens of thousands of civilians have been killed. Western security agencies say the failed Horn of Africa state has become a safe haven for militants, including foreign jihadists, who use it to plot attacks in the region and beyond.
Mr. Nabhan, who has long been on the Federal Bureau of Investigation's Most Wanted list, is believed to have fled to Somalia after the 2002 bombing of a Israeli-owned Kenyan beach hotel.
In May last year, U.S. warplanes killed the then-leader of al Shabab, Afghan-trained Aden Hashi Ayro, in an attack on the central town of Dusamareb.
-Yochi J. Dreazen contributed to this article.
Copyright 2009 Dow Jones & Company, Inc. All Rights Reserved. Reprinted here for educational purposes only. Visit the website at wsj.com.
Background
ON SALEH ALI SALEH NABHAN: (from bbc.co.uk/2/hi/africa/8256024.stm)
Saleh Ali Saleh Nabhan was wanted in connection with the 2002 terrorist attacks on a hotel and an Israeli airliner in Kenya.
Some reports suggest he was also involved in the 1998 bombings of the US embassies in Kenya and Tanzania in which more than 250 people died.
Nabhan was reportedly one of the original members of the al-Qaeda East Africa cell.
According to Andre le Sage, from the African Centre at the National Defense University in Washington DC, Nabhan has probably been one of the individuals who has maintained overall operational command in East Africa with "possibly even connections to al-Qaeda senior leadership in the Pakistan-Afghanistan area".
"If he was removed from the East Africa al-Qaeda cell, it would certainly degrade the capabilities of that network and their ability to conduct future attacks," le Sage told the BBC.
Nabhan - alongside other al-Qaeda-linked foreign suspects - has reportedly been hiding in Islamist-held areas of Somalia for some time.
He is said to have been killed in a helicopter raid by US special forces on the coastal town of Barawe, which is under the control of the Islamist group, al-Shabab.
Mr le Sage says Nabhan has been working closely with al-Shabab "in the management of training camps, particularly training camps where foreign fighters were receiving jihadist training".