Biden considering paying migrants to stay home
Daily News Article — Posted on April 12, 2021
(by Gabrielle Fonrouge, New York Post) – The Biden administration is considering sending cash payments to Central Americans in a bid to prevent them from making the trek north as the US grapples with the worst immigration crisis seen in 20 years, Reuters reported Friday.
The possible cash transfer program would be targeted at people in the Northern Triangle region of Guatemala, Honduras and El Salvador, Roberta Jacobson, the White House's Southern Border Coordinator, told Reuters in an interview, without saying who exactly would receive cash.
In March, nearly 170,000 migrants were picked up by US Border Patrol agents at the southern border, a 70 percent increase from February and the highest monthly total seen in 20 years (since March 2001), data show.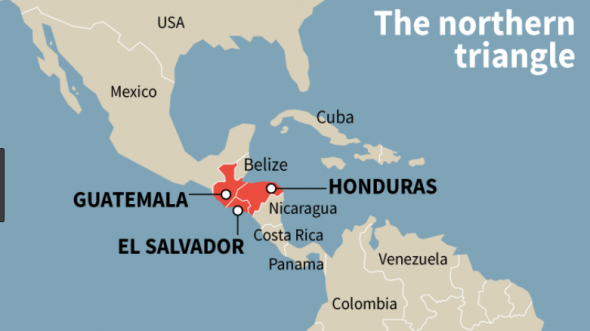 Numbers have steadily increased since the start of the year and are attributed to a host of factors. They include the pandemic, natural disasters in those regions and a more welcoming attitude from President Biden, who rolled back a series of strict immigration policies set in place by [President Trump].
"We're looking at all of the productive options to address both the economic reasons people may be migrating, as well as the protection and security reasons," Jacobson said.
Jacobson, who announced Friday she is stepping down, couldn't explain to Reuters how the program would work but did say she can "promise" "the U.S. government isn't going to be handing out money or checks to people."
The White House hopes the cash payments will address economic issues Central Americans face so they won't feel the need to migrate, Reuters said, citing a senior White House official who is unnamed.
Local law enforcement units and public officials along the border have criticized Biden for not doing enough to stem or prepare for the surge, which has left thousands of unaccompanied children languishing in federal custody at the reported cost of $60 million a week.  US Customs and Border Protection last week revealed that Border Patrol officers encountered 18,890 unaccompanied children from Central America, doubling February's number of 9,297 minors.
The administration is also mulling a plan to send COVID-19 vaccines to Central American countries, which have had extremely slow vaccine rollouts. In Honduras and Guatemala, less than one-percent of the population has been vaccinated and in El Salvador, only 2.5 percent have gotten the vaccine. Jacobson said that President Biden's administration would consider how vaccines could help the countries' ailing economies. She said the vaccine issue remains separate from immigration-related discussions with the nations.
Compiled from Reuters by Ted Hesson and Matt Spetalnick and NY Post by Gabrielle Fonrouge on April9. Reprinted here for educational purposes only.
Background
New York creates $2B fund to provide illegal immigrants with COVID relief (April 8, FoxBusiness)
New York lawmakers struck a deal this week to establish a $2.1 billion coronavirus relief fund for undocumented immigrants and other unemployed workers who were ineligible for federal aid during the pandemic. (Democrats control both houses of the NY state legislature; Gov. Andrew Cuomo is also a Democrat.)
The so-called Excluded Workers Fund, which was announced as part of a broader $212 billion state budget agreement, will offer one-time payments of up to $15,600 to undocumented immigrants who lost their jobs during the virus-induced crisis.
In order to qualify for the money, individuals must prove they are New York residents who were ineligible for unemployment benefits and stimulus checks due to their immigration status. They will also need to demonstrate that they lost income during the pandemic.
Other illegal immigrants who are unable to show the same level of verification will be eligible to receive $3,200 – the same amount that many tax-paying Americans received from the three stimulus checks approved by Congress this year and last. ...
...Republicans slammed Democrats for setting aside billions for illegal immigrants when many other New Yorkers are still struggling and called it an "outlandish development" of one-party rule in Albany.
The left-leaning Fiscal Policy Institute estimated the fund could benefit close to 290,000 undocumented people statewide, including 213,000 in New York City. About 92,000 workers in New York state will be eligible for the full $15,600 payment.
An estimated 725,000 undocumented immigrants live in New York state, according to the Pew Research Center.
California established its own $75 million cash assistance program last year, giving undocumented immigrants a $500 one-time stimulus check on a first-come basis.