Dr. Mildred Jefferson
Quote of the Week — Posted on February 22, 2011
"I am at once a physician, a citizen and a woman, and I am not willing to stand aside and allow this concept of expendable human lives to turn this great land of ours into just another exclusive reservation where only the perfect, the privileged and the planned have the right to live."
Dr. Mildred Jefferson, the first black woman to graduate from Harvard Medical School (in 1951), on why she opposed abortion.  Dr. Jefferson later became a surgeon at Boston University Medical Center and a professor of surgery at the university's medical school.  Two decades after her graduation, when the American Medical Association declared that physicians could ethically perform abortions, Dr. Jefferson became one of the founders of the National Right to Life Committee. She remained active in NRLC and other pro-life groups until her death on October 15, 2010 at the age of 84. (See photo of Dr. Jefferson below.)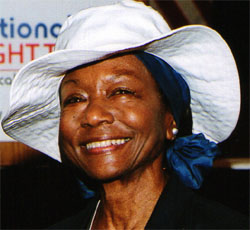 Read more about Dr. Jefferson here.
NOTE:  February is Black History Month.  Make a point to read about famous Black Americans you might not have read about in school:  What do you know about:
Booker T. Washington
Garrett Morgan
George Washington Carver
Dr. Patricia E. Bath
Otis Boykin
Read their stories and more at blackinventor.com.