This Alaskan Town Won't See The Sun For More Than Two Months
Human Interest News — Posted on November 30, 2020
(By James Rogers, Fox News) – The sun set for the last time this year in the remote Alaskan city of Utqiaġvik (formerly known as Barrow) on Wednesday, November 25th, marking the start of a 66-day period of "polar night."
"At 1:30pm AKST this afternoon, the sun will set and Utqiaġvik will enter a 66 day period of polar night," tweeted the National Weather Service Fairbanks. "The sun will rise again on January 23rd, 2021."
"Goodnight Utqiaġvik!" tweeted the Bureau of Land Management Alaska.
"From the 'It Could Be Worse' Department …" tweeted 7 News Boston Meteorologist Josh Wurster.
Located north of the Arctic Circle on the coast of the Chukchi Sea, Utqiaġvik, which was formerly known as Barrow until 2016, is the northernmost American city. The city has 4,429 residents, according to its website.
"Although Utqiagvik is a modern community, subsistence hunting, fishing, and whaling are still very important to the local economy," it says. "Many residents who work full- or part-time continue to hunt and fish for much of their food."
---
from WKMG-TV, Nov. 18, 2020:
Utqiagvik lies within the Arctic circle. In the winter months, the northern hemisphere is tilted away from the sun, keeping the sun below the horizon.
Even though there won't be an official sunrise for more than two months, it isn't necessarily completely dark all the time. At its brightest, however, it will look how twilight does in the evening as the sun gets close to, but never rises above, the horizon. It's the same concept as to why there is still some light even after the sun sets.
In the warm season, the opposite is true. The northern hemisphere is tilted toward the sun and, therefore, the sun won't set for a couple of months. This is also known as polar day or the midnight sun.
---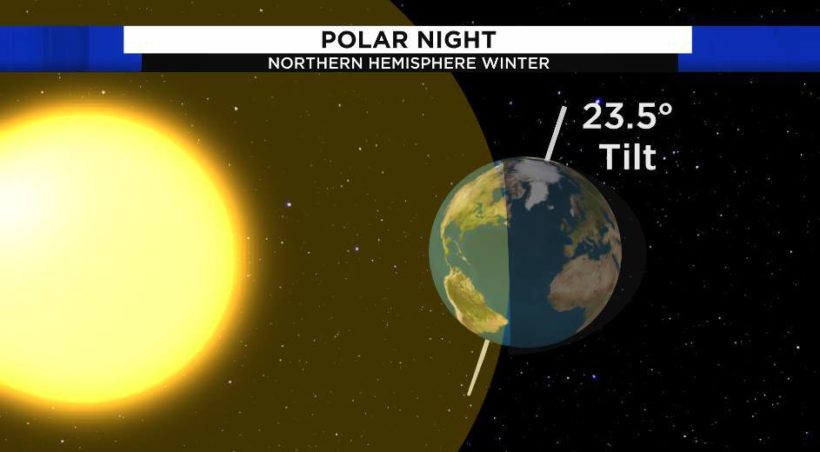 ---