Monday 11/24/08
Human Interest News — Posted on November 24, 2008
By The Editors of WorldMag.com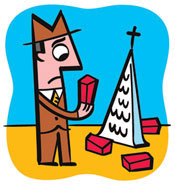 Great escape
If the church can be built brick by brick, it can be stolen that way too.
According to officials in the Russian Orthodox church, a 200-year-old church building has completely vanished, apparently stolen one piece at a time. Clergymen went to visit the abandoned church building in Komarovo, Russia, after officials began to discuss reopening the 1809 building for services. Figuring the brick heist must have occurred sometime in October, church officials reported to police that all that remained was the 200-year-old building's foundation and a few wall sections.
Wanted: Hot Shot for hot shot
It could be the new big thing in Florida: Madagascar Hissing Cockroaches. But don't expect a mention of it in the travel brochures. Researchers at the University of Florida sent out warnings to pest control businesses and homeowners to be on the lookout for the roach among other pesky insects. The scientists say reptile owners could be to blame. Compared to the traditional, but smelly and loud, cricket diet, many reptile owners have turned to purchasing cockroaches on the internet for their pets. But entomologist Phil Koehler warned that once loose, new cockroaches, including the Madagascar (up to five inches long) would thrive in Florida's climate.
Tempest in a tin pot
Good thing he didn't put it on eBay with a "Buy it Now" option. Otherwise, one anonymous eBay seller might have missed out on the surprise sale of a lifetime. EBay member "123ecklin" listed a terribly beat-up 1963 Pontiac with no engine originally for just $500. The price didn't stay that low for long. Once treasure hunters on the online auction site discovered the slightly rusted and heavily dinged muscle car carcass was actually a 1963 Pontiac LeMans Tempest Super Duty Coupe, one of seven ever made, bidding on the historic drag-racing vehicle skyrocketed. At close, the car fetched $226,521. The ultra-rare Tempest was said to be one of the fastest dragsters of its era. In the question-and-answer section of the eBay listing, the seller admitted that he had considered simply scrapping his inherited Pontiac.