Monday 09/13/10
Human Interest News — Posted on September 13, 2010
By The Editors of WorldMag.com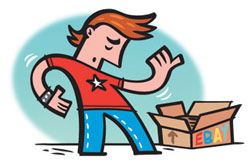 Mind over matter
If you want to see one item on sale on eBay from a Melbourne, Australia, merchant, you'll need some imagination. That's because the eBay merchant listed what he called a "vintage air guitar" on the auction website. In the description, the seller described the imaginary guitar as "slashed, trashed and engulfed in flames by the awesomeness of Jimi Hendrix, Angus Young, Joe Santriani, Keith Richard and Jimmy Page." An air guitar is what rock enthusiasts call the imaginary guitar they hold as they pretend to play along with their favorite guitar solos. As for the imaginary guitar listed by "thesongroom"? The seller says it "delivers a monster sound rivaled only by a choir of mutes or the cone of silence." And despite the imaginary nature of the item, it seems bidders were willing to spend real money to purchase the air guitar. At least a dozen people placed a bid, with one as high as $50.
Aiming high
A bank teller in Bloomfield, Ind., apparently became suspicious when drive-thru customer Justin Johnson tried to cash a check in July. It would have been difficult not to be suspicious, given the amount of the bogus check: $1 million. Johnson reportedly had been confident enough that his scheme would work that he gave the teller his driver's license for ID-leading to his arrest.
Super find
For one family in the South, Superman is certainly a superhero. The family, which is seeking to remain anonymous, was facing foreclosure on their house-a house that had previously belonged to the wife's father. As family members were packing things in the basement, they reportedly came across a box of comic books that included the famous but rare 1938 comic book that introduced Superman. In 1938 it sold for 10 cents. Its value now: probably about $250,000 at auction, according to appraisers. "You couldn't have asked for a happier ending," said Vincent Zurzolo, co-owner of Metropolis Comics and Collectibles in New York. "Superman saved the day."
Bags of memories
If he had listened to his mother, Dave Valentine probably would have thrown away his old snack wrappers. But now, the 32-year-old Englishman says his collection of old potato chip bags from his childhood is worth close to $16,000. Valentine, from Bexhill-on-Sea, says he's hoarded the bags since the early 1980s and that his collection of chip bags is special because it includes lots of bags from defunct brands. "People love the nostalgia of looking at the old packets-it takes them back in time and they get a real kick out of that," he said. But despite an offer of $15 for a single bag to offers for the entire collection, Valentine doesn't plan on selling his bags quite yet, saying that the empty bags represent "mementos of my childhood."
Model worker
When you've held down a job for as long as Sally Gordon has, people take note. The Nebraska Legislature honored the 101-year-old Gordon in a ceremony Aug. 10 recognizing her 26 years of service to the state government in her role as assistant sergeant-at-arms. She took the job in 1984 at age 75 and ever since has aided in the day-to-day operations of the Nebraska Legislature whenever it's in session. Her advice to younger job holders? "Try to learn new techniques, listen and be kind to co-workers," said Gordon, who has worked for three governors and as a model during her 84-year working career. "I used to be a model," Gordon said. "Now I feel like a model T."
Phoning home
A burglary suspect in Athens, Ga., managed to evade police, but his cell phone gave him away. Police say they saw the man flee Howard B. Stroud Elementary, where he had broken in, and were unable to catch him. But he dropped his phone, which allowed police to learn his identity very quickly. How? By calling the number on his contact list for "Ma."
Drinks from afar
For the right price, a Scottish public house featured by Guinness World Records could be yours. But be advised: The new owner of the Old Forge in Inverie, Scotland, should either have sturdy walking shoes or a trustworthy boat. Named by Guinness as Britain's most remote mainland pub, the Old Forge is only accessible by an 18-mile hike or a seven-mile sea crossing. Owners Ian and Jackie Robertson say they want at least $1.1 million for the pub, which, despite its remoteness, is an acclaimed tourist destination in what is known as Scotland's last frontier.