Monday 05/23/11
Human Interest News — Posted on May 23, 2011
Ohio judge gives defendants homework assignments
A judge in Ohio gives defendants what sounds like homework assignments as a part of probation sentences. Lucas County Common Pleas Judge Stacy Cook in Toledo has ordered offenders to write five-page reports on topics including teen violence, drug use and head injuries. The judge tells The Blade newspaper her goal is to get defendants thinking about why what they did was wrong and how it hurt others. The Blade reports Cook has told as many as 30 people to write papers since she took the bench in 2007. She reads all of them and says it seems that the number of writers who've later returned to her court for serious probation violations has been low.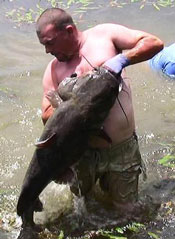 Bill would allow Texans to catch fish by hand
Texans who want to catch catfish using only their bare hands would be able to do so legally under legislation approved by the state Senate. While budget negotiations were teetering on the brink of collapse Thursday, state senators took action to legalize hand fishing, called noodling, in Texas. Right now the fine is $500 for noodling in Texas. The bill would require "noodlers" to have a fishing license and freshwater fishing stamp.
Enduring joking questions from fellow senators, bill sponsor Sen. Bob Deuell said he's never noodled, but that the bill needed to be passed for the "noodlers of Texas." The measure was already passed by the House and is headed for Gov. Rick Perry's desk, where his signature would make it law.
[Photo: Ronald Murdock hangs on to a 47-pound flathead he noodled. Noodling, catching fish by hand, is illegal in Texas but legal on the Louisiana side of the border lake.]
Ohio pair serve time in pool for rafting offense
A northeast Ohio couple have found themselves up to their ankles in trouble for rafting on a flood-swollen river without life preservers and lying about it after a search. A judge sentenced the pair to stand in a tiny swimming pool while wearing life jackets and handing out water safety brochures at a festival in Painesville, 30 miles northeast of Cleveland.
Twenty-year-old Grace Nash and 22-year-old Bruce Crawford pleaded guilty to misdemeanor misconduct during an emergency. Searchers spent hours looking for them last month after they were spotted on the Grand River. They made it to land but lied to an official about being in the water. They chose the pool punishment and community service over 60 days in jail. Nash tells The News-Herald in Willoughby they've learned their lesson.
Navy radio system jams garage door openers in RI
A new Navy radio system meant to open communications is having an unexpected jamming effect on an unusual target – Rhode Island garage doors. The Newport Daily News reports Tuesday that the radio system recently brought on line at Newport's naval base operates on the same frequencies as some remote garage door openers. The interference leaves the openers ineffective. Naval officials say the base started using the system May 5.
One garage-door manufacturer says 30 customers in the area have reported malfunctioning garage openers due to interference from the new radio system. Wall-mounted openers, which don't rely on radio waves, are unaffected. Naval officials say they did not know that the system would interfere with garage door openers.
Above reports are from The Boston Herald and San Jose Mercury News. Reprinted here for educational purposes only.